At this writing, I am 56 years old. Hard to believe. The first banjo lesson I ever got was from my dad, Fred Hickler. He was caught up in the folk boom of the 1950s and listened to Burl Ives, Pete Seeger, The Weavers and Josh White. He learned to play the guitar after his dreams of playing trumpet were not realized whereupon he traded it in for a used 1934 Martin OO-18 guitar (poor guy, that's all he could afford). It is fair to say that I would not have been born if it weren't for that Martin guitar. My parents met at a folk music party. My mother was dating her guitar teacher who took her to that party. Big mistake! When she saw my dad, his lanky frame sprawled out on a couch and strumming his guitar it was love at first sight.
I don't know where we got it, but our family had a Whyte Laydie tenor that some miscreant had clumsily added a fifth string peg. It was warped and very hard to play. I was ten years old. The lesson did not "stick" and I revived my interest four years later. My dad and I went banjo hunting in the Boston area. We sallied forth with the Want Advertiser in hand. Tracking down endless dead ends. Kay banjos for $50, etc. Then one day we entered a living room where I was presented a Fairbanks Special No. 1 for consideration. It had been in some kind of terrible accident. The neck had a repaired crack that went diagonally from the peghead to the fith string peg. I think the neck must have been completely broken in two.
But there was some things liked about that banjo: the ivroid binding and handsome inlay pattern, the mysterious model name "Electric" branded into the side of the dowel and the metal tag "A.C. Fairbanks, Makers." Someone had intitialed the fingerboard in mother of pearl "FAW." My cousin quipped it stood for "Fine American Workmanship." It seemed playable and sounded nice. They wanted $100 for it. When I agreed I sensed that they were surprised that I accepted so easily. It was 1965.
Eventually the fifth string peg worked its way loose and we took it for repair. The repair was botched and caused the fingerboard to become delaminated around the fifth fret and had started to disintegrate along the original crack. My dad bought a replacement fingerboard and I did the "repair" myself. I sacrificed the beautiful inlay for a functional playable instrument.
Over the years, of course, I realized the value of the instrument and what it would have been worth if it had not been assaulted by my ignorance and the incompetence of a hack repairman. I lost the original fingerboard along the way and all I had was a memory of the handome pearl. When I got into building instruments I vowed I would some day make a reproduction of that banjo. Unfortunately examples of the pattern I kenw and loved were very hard to track down. I became an obsessive ebayer and looked at banjos every day for several years. In all that time I only saw two instruments that exactly matched mine. One seller kindly photographed the inlay for me and I set to work drawing it up in Adobe Illustrator.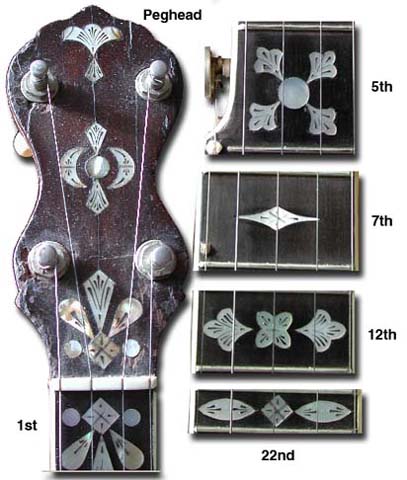 PHOTOS OF AN ANTIQUE INSTRUMENT FOUND ON EBAY KINDLY SUPPLIED BY THE SELLER

MY REPRO PATTERN DRAWN IN ADOBE ILLUSTRATOR. THE DIAMOND ON THE 10th FRET WOULD BE AT THE NINTH FRET ON AN ORIGINAL. IT LOOKS MUCH BETTER, BUT IT IS CONFUSING TO MODERN PLAYERS.
When I was satisfied that I had drawn it accurately, I sent my drawings to Bryan England who recreated the pattern using computerized equipment. I have had the pattern reproduced twice and used it on a banjo you can see in my gallery. I have one other set in my posession and I want to use it on a spun-over rim to make it look authentic. Also this time I want to have it engraved. I bought some fancy engraving equipment and state-of-the-art sharpening jigs to go with it, but I just haven't had time to pursue pearl engraving.
I'll add to this article as things progress.